Any online business must have an attractive and user-friendly website in today's digital world. A well-designed theme can play a significant role in attracting and retaining visitors. If you have an online store or plan to start one, Debutify is the best option for you. 
Debutify theme is also providing 14- day free trial. So if you are looking for How to Download and Install Debutify Theme for Free. This is the right place for you. 
In this article, we will explain to you step by step the process to download and install the Debutify theme on your Shopify store for free. 
If you want to know more about Debutify Theme click and read Debutify Theme review.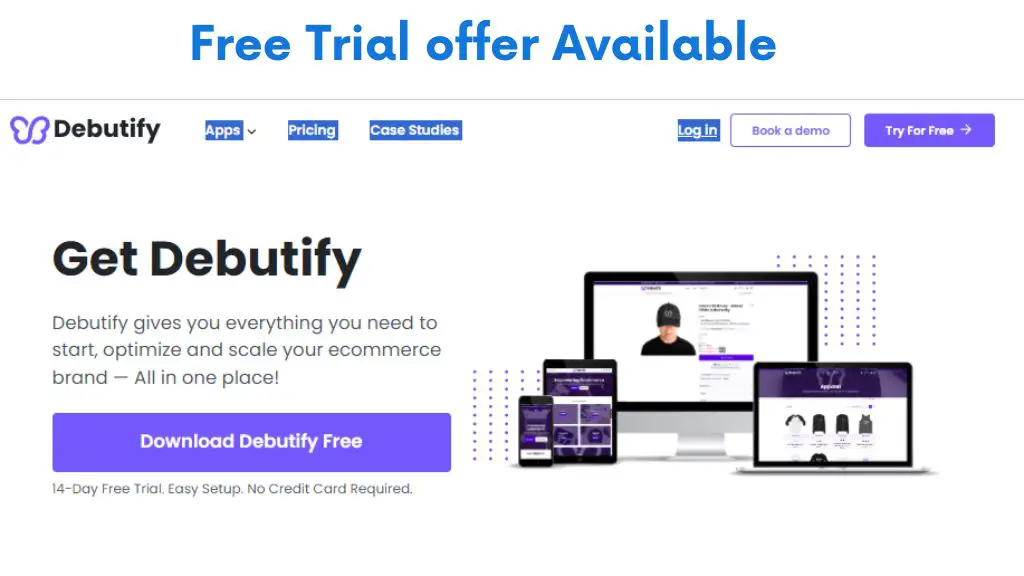 How to download and install Debutify Theme for free
It's not available in the Shopify app store if you want to get the most popular best-converting Shopify "Debutify Theme" for free. 
You can download the Debutify Theme and try it for free by clicking here.
Here are the steps to download Debutify Theme:
Go to Debutify official website and log in or create an account.
Click on Download Theme In Debutify Theme Manager.
Click on Download to get the latest Debutify Theme.
Existing Customers – click Update to 5.0 
New Customers – click Fresh Install 5.0
Go to your Shopify store to finish installing the Debutify Theme. 
How to install/upload a Theme on Debutify 
To install/upload the Theme on Debutify, you will need to follow these steps 
Under the online store, click on Themes 
Click on Add Theme 
Click on Upload Zip File 
Upload the Theme Zip File 
The uploaded theme will appear in the Theme Library 
Confirm the Debutify Theme is installed 
Once you've installed the theme, you can start customizing your store. You can customize your store by changing the fonts, colors, and layout. You can also add products, categories, and pages to your store.
Debutify Free Plan 
The first is the Free plan, and the second is the 14-day free trial for the Enterprise plan. 
The Free Plane  
It is a forever free plan that gives you access to all the basic features of Debutify, which allows you to create a fully-functioning Shopify store with all the essential features you need to get started. The free plan includes the following: 
A beautiful, responsive theme that is optimized for mobile devices 
A drag-and-drop page builder that makes it easy to customize your store 
A variety of built-in marketing tools, such as email marketing and social media integration 
24/7 support from the Debutify team 
Here are some limitations of the Debutify Free Plane 
You only get access to a limited number of add-ons. 
You are limited to 100 products. 
You cannot use the Debutify logo on your store. 
Debutify theme14 days Free Trial  
You can try out the Enterprise plan for 14 days free, which includes all the features of the Free plan.  
More than 50 add-ons 
Priority support 
A dedicated onboarding specialist 
To sum up, the amount of time Debutify requires for its free plan depends on your chosen plan. The Free plan is forever-free, while the 14-day free trial for the Enterprise plan only lasts for 14 days. 
What happened after Debutify free trial 
Once your 14-day free trial ends, your account will automatically downgrade to the basic free plans. If you decide to continue using Debutify after the trial period, you can subscribe to one of the paid plans. 
From our experience, extending the trial period for too long can slow down decision-making and harm our revenue. 
How to Cancel Your Debutify Subscription 
If you want to cancel your Debutify subscription, you need not worry about that; you can cancel your Debutify Subscription immediately, anytime.  
Canceling moves your paid Subscription to Debutify free plan. After canceling your Subscription, send a message to Debutify Live Chat Support or email billing@debutify.com to confirm your cancellation. You can also contact Debutify support if you have any questions. 
Is it worth to use Debutufy Free Plan? 
The Debutify free plan is a great way to start with Shopify, but it has some limitations. Is it worth it or not? It all depends on your budget. 
The free version of the Debutify theme is not worth it if you don't plan to upgrade to a paid version later. The free version doesn't have many add-ons or support, so that it won't be profitable in the long run. 
Here's a breakdown of why the free version of Debutify isn't worth it: 
Limited add-ons: The free version of Debutify doesn't include many of the add-ons available in the paid versions. 
Limited support: The free version of Debutify also doesn't include as much support as the paid versions.  
If you're serious about using the Debutify theme, consider upgrading to one of the paid versions. 
Conclusion  
Debutify is a free Shopify theme that can be downloaded and installed on your store. It is a great option for beginners, as it is easy to use and customize. However, the free version of Debutify is limited in terms of features and support. If you are serious about using the theme, upgrade to one of the paid versions. 
The extra features and support are worth the cost and will help you grow your business in the long run. 
Overall Debutify is great and very helpful for your Shopify store. 
We hope the content on How to Download and Install Debutify Theme for Free is very helpful to you…… 
FAQ
Can I use Debutify for free?
Yes, you can use Debutify for free. There is a basic Free plan or 14 days free trial.
What are Debutify add-ons?
A Debutify add-on is a set of features that can be added to the Debutify theme to enhance its functionality and appearance. Debutify offers over 55 add-ons that cover a variety of functionalities.
What is the difference between free and paid Debutify?
Debutify theme free plan offers basic support and 28 add-ons.
The Debutify theme paid plan gives access to all 55 add-ons, priority support, and additional features such as abandoned cart recovery, advanced analytics, and live chat.