Debutify Theme is a good choice for your online store. This is a great Shopify theme. Here's everything you need to know about Debutify Theme Plan. In today's competitive e-commerce market, you need a site that is beautiful, functional, and easy to use to succeed. With Debutify's plan, you get all of this and more.
Regarding purchasing the themes, Debutify has a lot to offer. Before buying, you must know about the Theme Cost, Price, and add-on Plan. 
If you want to know more about Debutify Theme review, then click here. 
Debutify Theme Plan
Debutify offers both free and paid theme plans. The free themes are great for those just starting out with their online store. For those who are looking for more customization and features, paid themes are the way to go. 
Choosing the right Shopify plan will depend on your desired features, ideal price point, and how much technical support you'll need. 
We've created a Debutify Theme pricing guide to help you make the best choice for your business. 
Debutify Free and Paid Plans 
Debutify offers both Free and paid themes. The Free themes are great for those just starting out with their online store. For those who are looking for more customization and features, the Paid theme is the way to go. Debutify offers four different types of plans under different subscription types: Free Plan, Growth Plan, Pro Plan, and Enterprise Plan. 
There are two paid plans, starting at $21.75/month and going up to $111.75/month.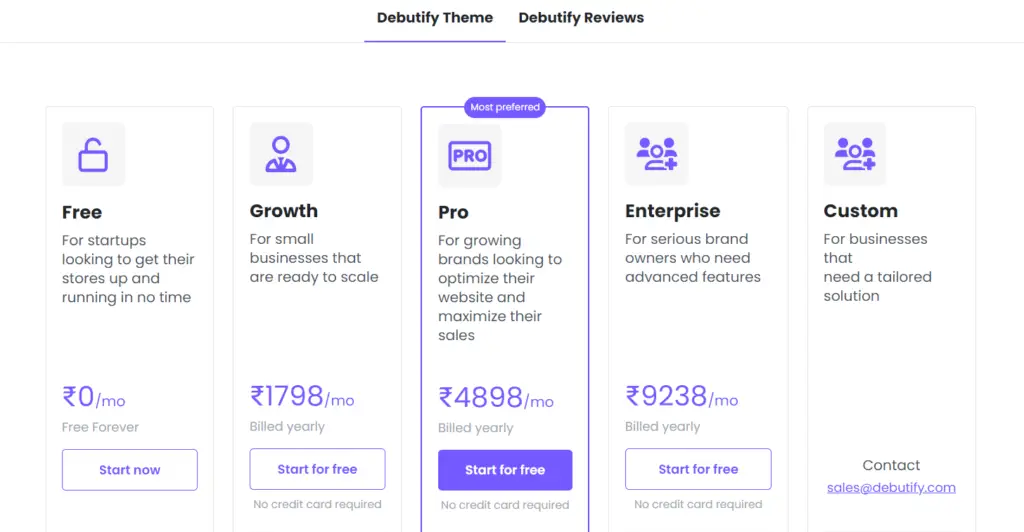 Which Plan is Right for You? 
The best plan for you will depend on your needs and budget. If you are starting out and you are on a tight budget, then download and install Debutify theme free plan may be a good option for you. 
For people who are serious about growing their Shopify store, a paid plan offers many features that can increase conversions and sales. 
How to Sign Up for a Paid Plan 
Signing up for a paid plan is a great way to unlock additional features and benefits. Whether you're looking for more storage space, ad-free browsing, or premium customer support, a paid plan is right for you. 
Steps to sign up for a paid plan: 
Go to the Debutify website. 
Click on the "Try Free Trial" button. 
Log in to your Shopify store by entering your store's URL and clicking on the "Connect to Shopify" button. 
Select the paid plan that you want to sign up for. 
Enter your payment information. 
Click on the "Subscribe" button. 
Benefits of the Debutify paid plan 
Using the Debutify paid plan is beneficial if you want to improve your Shopify store. Below are the benefits 
Access to all Debutify add-ons: The Debutify paid plan gives you access to all of the Debutify add-ons, which can help you to increase your conversion rates and sales. These add-ons include Conversion Triggers, Cart Maximizers, Upsells and cross-sells, Discounts and coupons. 
Priority support: The Debutify paid plan gives you priority support, which means you will get help from the Debutify team more quickly if you have any problems. Debutify's support feature is very helpful if you run into technical difficulties or need help with the system.
Unlimited usage: The Debutify paid plan gives you unlimited usage, so you can use Debutify for as long as you want. There are no contracts or commitments. This means that you can cancel your subscription at any time if you are not satisfied with Debutify. 
If you are considering signing up for the Debutify paid plan, try the free trial first. This will allow you to see how Debutify works and decide if it is the right solution for your store.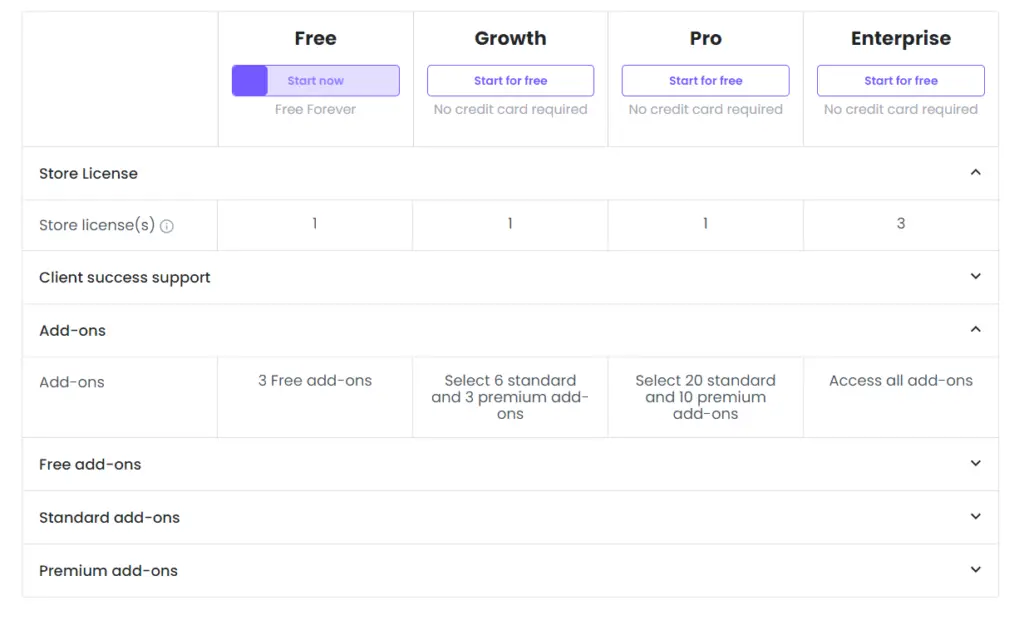 Comparison of Debutify Paid Plan and Free Plan 
| | | |
| --- | --- | --- |
| Feature  | Debutify Free Plan  | Debutify Paid Plan  |
| Theme  | Debutify theme  | Debutify theme  |
| Apps  | 10+ apps  | 50+ conversion-boosting add-ons  |
| Support  | Basic support  | Priority support  |
| Store licenses  | 1  | Up to 3  |
| Analytics  | Basic analytics  | Advanced analytics  |
| Onboarding  | Self-service onboarding  | Dedicated onboarding  |
| Branding  | Debutify branding  | White-label branding  |
| Price  | Free  | $29/month or $249/year  |
As you can see, the main differences between the two plans are the number of add-ons, the level of support, the number of store licenses, the analytics, the onboarding, and the branding. The Free plan is a great option for you if you're starting out and want to test out the Theme.  
The Paid plan is a good choice if you're serious about growing your business and want access to more conversion-boosting features and better support, analytics, and onboarding. 
Pros and Cons of Debutify Paid Plan
Pros
More add-ons 
Better support 
More store licenses 
Advanced analytics 
Dedicated onboarding 
White-label branding 
Cons
More expensive  
Not all add-ons are free 
Not all features are available on all plans 
Conclusion 
Debutify is a great option for businesses that are looking for a powerful and customizable Shopify theme. Its Paid plans can improve your online experience in many ways. You can get access to premium features, ad-free browsing, better support, and more storage. 
 But before you choose a paid plan, you need to assess your needs and compare the features and prices of different plans. If you're serious about growing your business, then a paid Debutify plan is a worthwhile investment. 
Once you find a plan that fits your needs, you can start enjoying all the benefits that it has to offer. 
We hope that this content is very helpful to you. 
FAQS 
What does Debutify offer? 
Debutify offers both a 14-day free trial and a free plan for the top-tier Enterprise plan. 
Is Debutify Paid Theme Worth it? 
Your budget and needs will determine the value of the Debutify paid theme for you.
What is the Debutify Monthly Fee?
Debutify offers three pricing plans: Starter-$21.75/month, Pro-$59.25/month, and Enterprise-$111.75/month.