Are you looking for a way to make your online store to the next level? Then Debutify is a great option for you.
It's a super popular Shopify theme that can really boost your business. 
Want to know more? 
Then you are in the right place. 
Keep reading for the Debutify Theme Review where we will explain the plan feature and why Debutify is such a great option for e-commerce sites like yours.
If you're running a Shopify store and want to make it look and perform better, you should check out Debutify because It's a super customizable theme that can help you create a great store that sells more.
It's a customizable theme with a drag-and-drop editor and many templates and works with popular marketing apps. It also has premium features like a reviews app, countdown timer, pop-up builder, and Wishlist app to help increase sales.
What is Debutify 
Debutify is a really cool app that helps you design a Shopify store without needing any coding knowledge. 
It doesn't matter if you are a new or experienced user; Debutify is a great choice for anyone looking to create a mobile-friendly and high-converting store. It's super easy to use, and it works for any online store you can think of. Basically, Debutify makes Shopify store set-up easy. 
Why Use Debutify
Debutify is a popular e-commerce theme designed specifically for Shopify stores. It is known for its user-friendly interface, customizable features, and conversion-focused design. Here are some reasons why people choose to use Debutify:  
Professional and Modern Design 
Easy Customization 
Conversion Optimization 
SEO-Friendly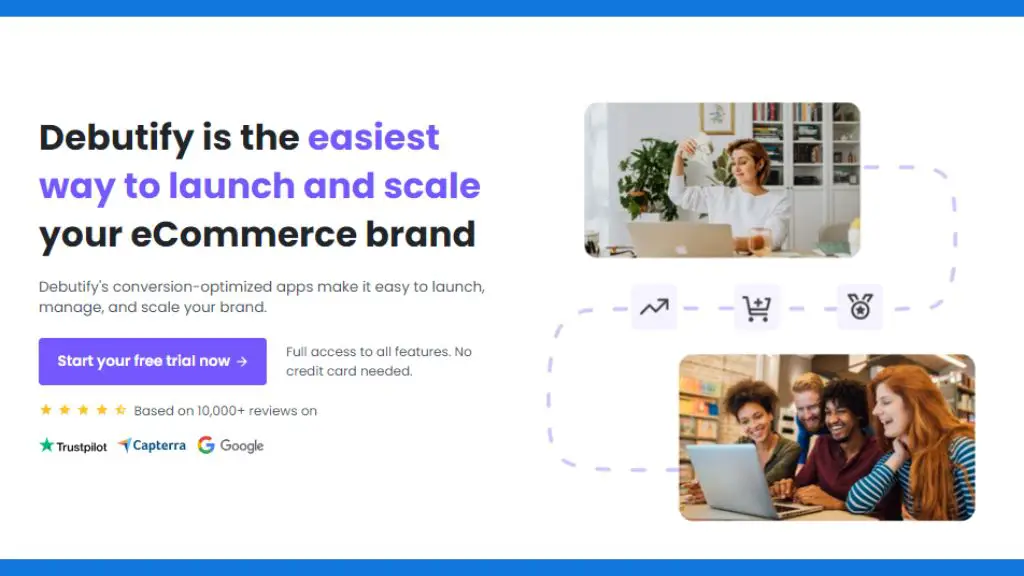 Debutify Theme Plans
Debutify offers three pricing plans for its theme: Starter, Pro, and Enterprise. 
Starter plan: This plan costs $21.75 per month and includes: 
1store license 
3 free add-ons 
6 standard add-ons 
3 premium add-ons  
Basic support ( 9 – 5 PM UTC Monday-Friday)  
Only the current theme version support  
Pro plan: This plan costs $59.25 per month and includes everything in the Starter plan plus: 
Unlimited store licenses 
All add-ons 
Priority support (24/7) 
Access to the Debutify Theme Club 
Enterprise: This plan is custom-priced and includes everything in the Pro plan plus: 
Dedicated account manager 
White-label support 
Advanced customization options 
The Free plan is a great way to try out Debutify before you commit to a paid plan. If you are looking for a more powerful and feature-rich theme, the Starter Pro, or Enterprise plans are a good option. 
| | | |
| --- | --- | --- |
| Plan  | Price  | Features  |
| Free  | $0  | 3 free add-ons, basic support  |
| Starter  | $21.75/mo  | 1 store license, 3 free add-ons, 6 standard add-ons, 3 premium add-ons, basic support  |
| Pro  | $59.25/mo  | Unlimited store licenses, all add-ons, priority support, and access to the Debutify Theme Club  |
| Enterprise  | Custom  | Dedicated account manager, white-label support, advanced customization options  |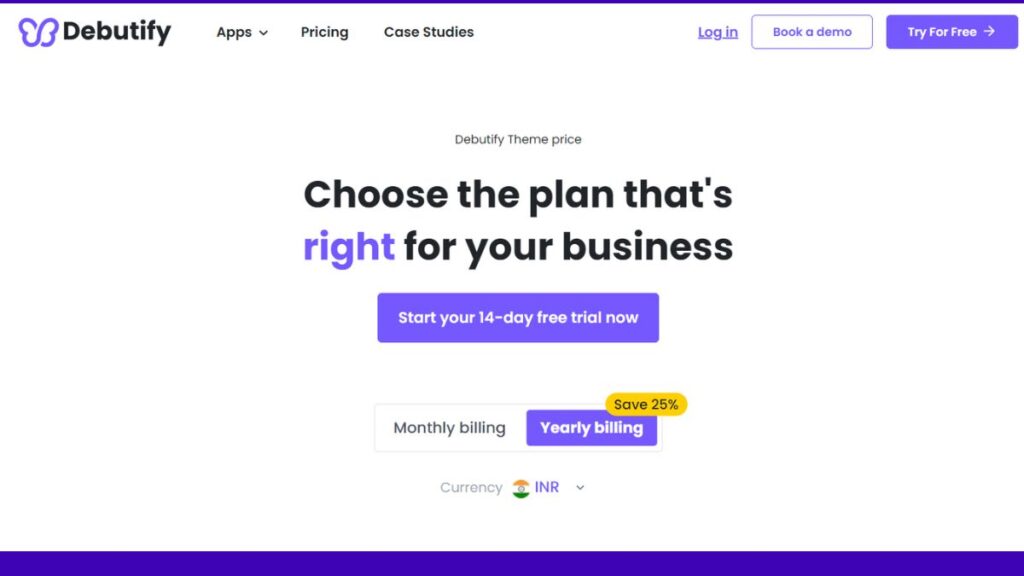 Check out our article about hosting and domains.
Debutify Theme Features  
The design of Debutify is clean and modern, mobile-friendly, and easy to customize to your preferences. It also features built-in add-ons that can assist in increasing your average order value, improve customer loyalty, and protect your store against fraud.
Here are some of the key features of Debutify:  
Unparalleled speed  
Fully customizable  
Build with ease  
Made exclusively for Shopify  
50+ Add-ons  
Lightning-fast page load speed 
Save $280/mo on e-Commerce apps 
Debutify Theme Review Pros and cons
Pros: Here are some pros of Debutify:  
Free to use: The basic plan of Debutify is free so you can try it out without any risk. 
Fast loading speeds: Debutify is optimized for fast loading speeds, which is important for both SEO and user experience. 
Built-in conversion tools: Debutify comes with a number of built-in conversion tools, such as abandoned cart recovery and upsells, that can help you boost your sales. 
Great customer support: Debutify has a reputation for having great customer support, so you can be sure you'll get help if needed. 
Highly customizable: Debutify is a customizable theme, so you can easily change the look and feel of your store to match your brand. 
Cons: Here are some of the cons of Debutify: 
The add-ons can be expensive. The add-ons that Debutify offers can be quite expensive, especially if you want to use many of them. 
It can be challenging for beginners to learn how to use Debutify because it has many features and settings. 
The theme can be slow on low-powered devices. With many images or products in your store, Debutify may be slow.
No Doubt, Debutify is a great theme for Shopify stores, but it's important to know the pros and cons before using it. 
Conclusion  
Debutify is a popular Shopify theme that is known for its speed, ease to use, and flexibility. It comes with a number of features that are designed to help you create a beautiful and high-converting online store. 
There are a lot of budget-friendly Shopify themes available in the market which also provides similar features.
Overall, Debutify is a great choice for anyone looking for a fast, easy-to-use, and flexible Shopify theme.
We hope that this content is very helpful to you.    
FAQS
Is Debutify free?
Yes, Debutify offers a free plan that includes access to all of its core features. However, there are also premium plans available that offer additional features and support. 
Is Debutify easy to use?
Yes, Debutify is a drag-and-drop theme builder, so it is very easy to use even if you have no coding experience. 
Is Debutify mobile-friendly?
Yes, All of Debutify's themes are responsive, so they will look great on any device. 
Is Debutify worth it?
Whether or not Debutify is worth it depends on your needs and budget.