It's hard to find a company that offers a good balance between affordability and functionality when it comes to cloud-based managed WordPress hosting. Cloudways Hosting offers fully managed hosting and promises no more slow-loading WordPress sites or WordPress hosting headaches.
Cloud computing platform-as-a-service offers comprehensive features, and you can scale resources according to your website's growth. Their infrastructure is designed for speed, security, and performance. Sign up for the 3-day free trial of Cloudways to test their platform if you're still on the fence about Cloudways being your managed WordPress host.
It is only $10 per month for Cloudways managed WordPress hosting.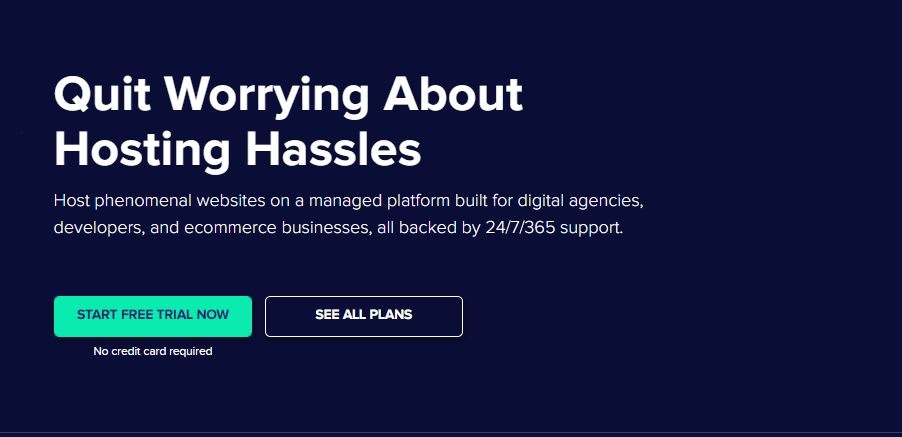 How does Cloudways stand out?
Cloudways has an easy-to-use user interface that gives you advanced controls at the same time. Whatever you need, whether you want to manage the server, the application, monitor stats, apply upgrades, manage services, install SSL, or anything else. Cloudways Hosting offers a variety of e-commerce features that make selling online a breeze. The company currently hosts over 10,000 e-commerce sites.
Based on a combination of Memcached, Apache, Varnish, and Nginx, the host boasts 100% reliability and super-fast page loading times of as little as two seconds. In addition to a user-friendly console, unlimited storage, managed security, and backups, the host also offers 24-7 support.
Cloudways Hosting Plans
When it comes to managed WordPress hosting, you'll find many companies offering similar services. Although the majority of web hosts offer managed WordPress hosting on a shared, VPS, or dedicated server, one company has truly stepped outside of the norm and offered a truly unique managed hosting solution.
Managed WordPress Hosting: Cloudways provides managed cloud hosting services for WordPress sites on a cloud server where multiple copies of your content will be replicated throughout your chosen data center.
Whenever you switch data, a copy of your website is served from the next server available if your main server fails. Fast deployment of computing resources, high performance, and service reliability are enabled.
Cloudways Plans & Prices
Flywheel provides scalable managed WordPress hosting plans. Cloudways is a platform-as-a-service that lets you host your WordPress site on a cloud server from DigitalOcean, Linode, Vultr, Amazon Web Services, or Google Cloud Platform. Below is an overview of their plans (using DigitalOcean's cloud servers) and current prices. Cloudways' website has the latest and most up-to-date prices.
Cloudways offers "pay-per-use" billing: you pay only for the resources that your website consumes each month.
Premium Plan
| Plan Name | RAM | Processor | Storage | Bandwidth | Monthly Price |   |
| --- | --- | --- | --- | --- | --- | --- |
| DO1GB | 1 GB | 1 Core | 25GB | 1TB | $12/mon | Start Free |
| DO2GB | 2 GB | 1 Core | 50GB | 2TB | $26/mon | Start Free |
| DO4GBPOPULAR | 4 GB | 2 Core | 80GB | 4TB | $50/mon | Start Free |
| DO8GB | 8 GB | 4 Core | 160GB | 5TB | $96/mon | Start Free |
| DO16GB | 16 GB | 8 Core | 320GB | 6TB | $160/mon | Start Free |
Standard Plan
| Server Name | RAM | Processor | Storage | Bandwidth | Monthly Price |
| --- | --- | --- | --- | --- | --- |
| DO1GB | 1 GB | 1 Core | 25GB | 1TB | $10/mon |
| DO2GB | 2 GB | 1 Core | 50GB | 2TB | $22/mon |
| DO4GBPOPULAR | 4 GB | 2 Core | 80GB | 4TB | $42/mon |
| DO8GB | 8 GB | 4 Core | 160GB | 5TB | $80/mon |
| DO16GB | 16 GB | 6 Core | 320GB | 6TB | $135/mon |
| DO32GB | 32 GB | 8 Core | 640GB | 7TB | $230/mon |
| DO48GB | 48 GB | 12 Core | 960GB | 8TB | $315/mon |
| DO64GB | 64 GB | 16 Core | 1280GB | 9TB | $395/mon |
| DO96GB-NEW | 96 GB | 20 Core | 1920GB | 10TB | $555/mon |
| DO128GB-NEW | 128 GB | 24 Core | 2560GB | 11TB | $715/mon |
| DO192GB-NEW | 192 GB | 32 Core | 3840GB | 12TB | $1,035/mon |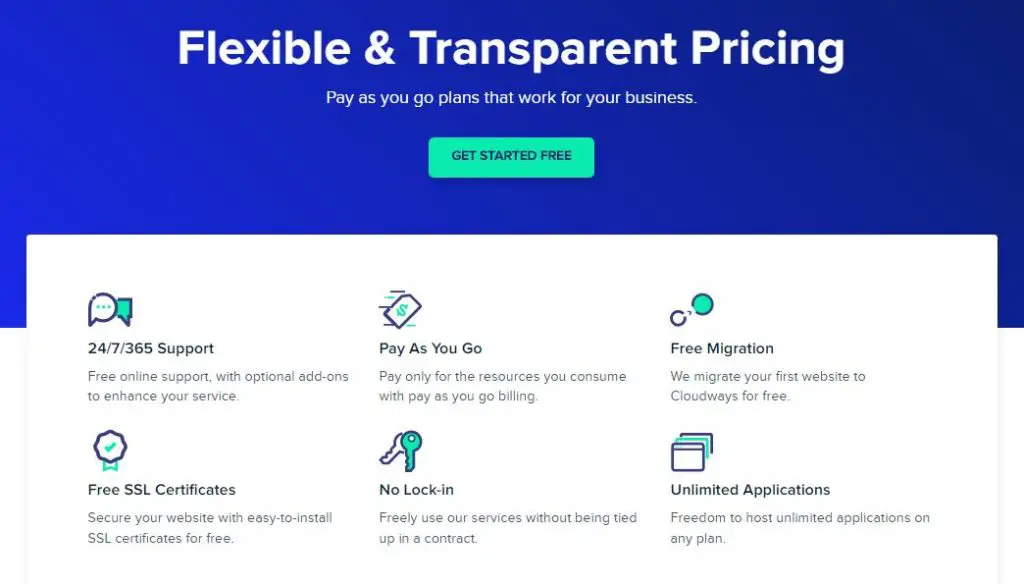 Cloudways Hosting Features
In addition to processing power, memory, bandwidth, and storage space, Cloudways servers offer varying amounts of processing power, memory, bandwidth, and storage space. Basic hosting offers a cloud server with 10 GB RAM, 25 GB of storage, 1 Core Processor, and 1 TB bandwidth.
How Cloudways keeps your WordPress site fast, secure, and easy to maintain:
Whether you're moving hosts or moving your website, Cloudways can help
improve server performance. Site speed is especially important for online stores.
Auto-healing minimizes the risk of your site crashing by resolving any issues
WordPress is the world's most popular content management system, which makes it a target for hackers. Cloudways uses a dedicated firewall to protect your site.
A built-in SSL certificate from Let's Encrypt secures communication between your site and your customers, while two-factor authentication adds an extra layer of protection against hackers
with one-click installation
Easy set-up for new sites – deploy a new site with a single click
Expert support available 24/7
Read also: Namecheap Website Builder Overview: Plans & Pricing, Bluehost free trial offer
FAQs on Cloudways Hosting
Does Cloudways provide a free hosting service?
Unfortunately, not. You can try the service for three days for free. Once a trial account is upgraded to a full account, all the plans are pay-per-use.
How long is the trial period supposed to be?
In order to familiarize yourself with the platform, they offer a 3-day trial period. The trial period begins when you create a trial server. Customers are advised to upgrade before the trial expires.
How much will I be charged per month after the free trial?
Once the trial period has expired, a monthly fee will be applied (pay-as-you-go basis) based on the server plan you have selected, such as infrastructure provider, server size, bandwidth usage, and subscribed paid add-ons (Cloudflare Enterprise, SMTP add-ons, etc)..).
Are there any extra charges except the server cost?
We charge a modest fee for backup storage per server. You will also be charged if you subscribe to one of our paid add-ons.
What payment methods do you support?
We accept all major credit cards (Visa, MasterCard, and American Express). You can also pay via PayPal upon request. You can reach out to Live Chat support for more information.
Is there a way to change my registered email address?
Yes, you can change your registered email ID by contacting our Support Team via Live Chat or Ticket.