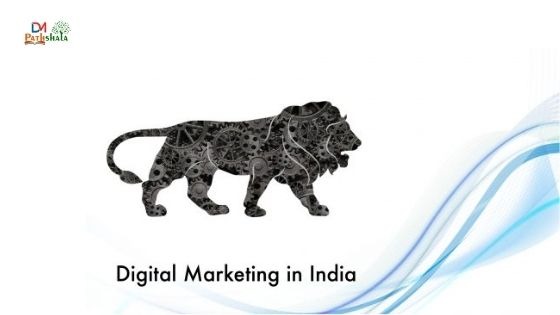 Digital marketing isn't just for India but around the globe. A digital marketing strategy is a must for every business. A digital marketing campaign can increase your sales, traffic to your website and improve your visibility online.
The majority of Indian businesses lost a lot due to the current state of India. This pandemic forced the Indian market to move to an online Pandemic. India is well aware of the importance of digital marketing. This domain is important for not only startups and businesses but also students and young people.
Social media plays a significant role in digital marketing's popularity. This has led to a rise in the number of people who use social media. You will see much content made in Tier 1 cities such as Delhi, Mumbai, and Bangalore. Everyone had an opportunity to show off their talents and share their work with the world through the internet.
India's digital marketing opportunities
Every business must have a marketing strategy to sell its products to customers. Despite their lack of marketing skills, many business owners still have the ability to market their products. They don't know much about the digital world and are afraid of being misunderstood. If anyone is looking to expand their business, old-fashioned billboards and hoardings won't suffice.
Traditional marketing methods are too expensive and ineffective because they do not target an audience interested in their products.
Marketing agencies have taken the lead in digital marketing and are competing for the title of a top digital marketing company in their region or globally.
India's internet users will reach 666 million by 2023, according to projections. It is evident that more people are moving online, and therefore marketing online is highly desired.
Due to the increase in internet usage, data consumption has seen a significant rise. As previously reported, the average user would use around 13.5GB data per month instead of 500MB to 1GB monthly 4G data for December 2020. A significant number of people started subscribing to platforms for video consumption and other Internet dependencies. This resulted in a 20% increase.
Another significant repercussion of covid-19 was the increase in demand for OTT platforms. India is one of the fastest-growing markets in the world. The consumption of OTT content has risen to 204 billion minutes per day since the lockdown was in effect.
Why should your company hire a digital market expert?
You will need to make sure your website ranks high on search engines when someone searches for the product that you offer. Digital marketing is a broad topic that requires many small components to help promote the product online.
Digital marketers must be knowledgeable about all aspects of digital marketing and be able to help you. Such as web development, social media marketing, and content marketing.
SEO is a crucial component of digital marketing. It requires a lot of technical knowledge and research. You will eventually need to use premium tools, which can be quite costly. This is where the digital marketing expert comes in.
The top digital marketing team also covers all the work on social media. They are usually a team of experts in more than one skill. The team helps you to manage your business according to your business.
Digital Marketing Strategy
E-commerce businesses can use digital marketing to describe a variety of topics. Your luck is that you were born at the right moment to make the most of your talents.
Advertising is the biggest expense a business owner has to make to increase sales. You can generate huge sales online without spending a lot of money.
Digital marketing is essential for any college student, owner of a startup or business. College students are increasingly turning to digital marketing as a way to make extra money.
These trends aside, small businesses continue to invest in traditional advertising.
One example is to buy a billboard advertising your brand on a busy street. You may find some customers, and people won't notice the billboard. You aren't engaging your target customer; digital marketing can help. It can also increase conversions.
Digital Marketing is a book that covers chapters such as:
Content Marketing
Social Media Marketing
Search Engine Marketing
Search Engine Optimization
Affiliate Marketing
Email Marketing
Advertising via Pay-Per-Click
These are just a few of the many things I'll be explaining in this article. You will be able to feel positive about digital marketing skills. It is not enough to read. A man can only be perfected by practice. You will need to practice each skill daily. Let's talk.
Content Marketing
Put, content marketing is the story behind your brand. It creates an emotional connection between you and your audience by creating content that shows your company cares about them. This makes it easier to connect with your customers. You can do this in many ways. Read more about Content marketing.
Social Media Marketing
Businesses of all sizes can use social media for marketing their products and services. Brands already use social media platforms such as Twitter, Instagram, and Pinterest to interact with customers. A social media marketing campaign that can effectively deliver remarkable results for your business, turning followers into loyal customers and driving leads to your company.
What can SMM do for your business?
It can increase traffic to your website.
It helps you build brand awareness and keeps your business alive.
Social media marketing can help you track your company's growth.
SMM can help you reach your target audience.
You can run your social media campaigns across different platforms, such as Facebook, Twitter, and Linked In. Each platform offers its own unique advantages and features. Let's talk about it.
Facebook
It is essential to use Facebook's casual and friendly atmosphere in your marketing strategies. You can create a Facebook fan page for your company. The layout is an important part of the Facebook experience. Make sure you pay attention.
To ensure you are well-received on Facebook, keep your tone casual and friendly. You can also have a limited organic reach on Facebook. If you wish to expand your reach, you should consider running a Facebook advertising campaign. This will increase your organic presence.
LinkedIn
Professionals love social media marketing sites such as LinkedIn. LinkedIn Groups allow professionals to connect with people who share common interests and provide a platform for sharing information. It is also a great tool to post jobs and network with employees.
Your customers and clients can recommend you to others on LinkedIn. Recommendations increase trust and credibility in customers' businesses. You can also visit the LinkedIn Questions section. Answering questions will increase your credibility and help you build trust.
Twitter
Twitter is a social media platform that allows you to broadcast your updates all over the Internet. Followers in your industry and related fields will help you gain followers.
Have fun when tweeting brand-building messages. You can help your brand by retweeting comments that have something positive to say and answering as many questions as you can. Everyone can use Twitter for social media marketing, and interaction with users is a key part of building a strong following.
Pinterest
Pinterest is a popular trend in social media marketing. Its accounts are useful for social media as well as for driving sales. It is an excellent platform for retailers, as it is visually rich.
It can be used by businesses to promote their products and brand personality. When developing your strategy, be aware that it is primarily a platform for female users. If your target market is within this demographic, a Pinterest account will be essential.
Reddit
Reddit and other social media platforms such as StumbleUpon and Digg are great for sharing engaging content. It receives more than 2 billion page views per month. This makes it one of the most promising social media marketing sites. However, they will only accept innovative and interesting content. It is a tech-savvy community, so spammy or sales-related content could lead to your company being rated incorrectly.
This is a place where most people are young, geeky, and liberal. You can have content that resonates with them to get significant traffic.
It is a great way to learn from your target audience and improve your website's traffic.
Instagram
Instagram is now more popular than ever. It is more elegant than Facebook and has a simpler user interface. While you cannot create a page on this site, you can create accounts for your company. A business account allows you to track your progress and see insight.
Instagram is all about interaction and pictures. It has few features such as swipe up, IGTV, and reels that can help you market your product.
Telegram
You can create telegram groups or channels to create a community. You can update everyone with text, photos, audio, and video.
Search Engine Marketing
Companies looking to improve their online presence are increasingly turning to online marketing. This is because consumers search for and buy products online.
Search engines are the most common source of customer traffic to websites.
Search engine marketing is a cost-effective way to spend marketing dollars because viewers pay only for visits. Every user can increase a website's ranking in search engines.
Although social media users don't search for specific things, they enter search queries to locate relevant commercial information. This positions them well for purchasing.
Search marketing campaigns expose consumers to the new content when they are open to it. PPC is not intrusive or interruptive, unlike most digital advertising.
Businesses will display advertisements from businesses with the same keywords if you search for a term that contains your keywords. You will see ads related to your keywords on the results page and other search listings. Because they are highly relevant to your query, these paid listings are more likely than others to be clicked.
Search Engine Optimization
You are now ready to move on to the next stage of search engine marketing. Once you have determined which keywords to use, it is time to learn more about search engine optimization (SEO). This is the key to increasing organic traffic and spending money.
SEO is essential for your website. Without SEO optimization, you will have no success with any other digital marketing strategies. This guide will provide you with all the details about SEO.
Affiliate Marketing
It consists of two parts: the first is the organization or body that owns the product, and the second is their commission program.
Affiliate links are best if you have joined a particular program that bloggers or influencers can join. These people are paid a commission for each sale made through social media or websites.
It is quite popular due to the trust of its audience and its followers can trust them to sell genuine products. This will increase interest in purchasing.
Email Marketing
Every company can use email marketing campaigns to reward loyal customers and promote products and services. Email marketing is a great way for customers to be informed about new products and discounts. It can also serve as a soft sell to your customers, and you can educate them about your brand, and keep their interest in sales.
Email marketing, which combines digital marketing with direct marketing, is one of the best ways to promote your business's products or services. You can use it to inform your customers about the latest products and offers. Marketing emails are great for brand recognition and lead generation. But people can also use them to build relationships with customers. It will keep them engaged in between purchases.
Pay-Per-Click Advertising (PPC)
Advertisers pay a fee for clicking on their ads on the internet. It involves buying website traffic rather than trying to generate it organically.
Pay-per-click advertising on search engines is the most popular. When someone types a keyword phrase into a search engine, a sponsored link will appear on the first page of the results. A sponsored link might be listed at the top of Google's search results page if it is purchased for the top keyword "marketing course."
SEMrush and Ahrefs are two SEO sites that can assist you in calculating the PPC for each keyword.
Digital Marketing FAQ
Is digital marketing a good career in India?
Yes Indeed, It creates lots of opportunities to create your business or to work in different companies. As the internet grown, more businesses came online. any business to promote its products & services on an online platform. It involves searching for customers on social media, search engines, websites, etc., and increase the market reach. Digital marketing has different fields or works that you can explore according to your strengths.
What is the salary of digital marketing in India?
Salary and Income in the digital marketing field totally depend upon your number of skills and experience. If you want to know about different jobs, roles, and skills requirements to work as a digital marketer, read this article.
Digital marketing is difficult?
It's not difficult to grasp, but it can be slow to learn everything. To keep up with your competition, you need to gather data and learn constantly. It takes a lot of effort to get the final truth. Digital marketing is a labor-intensive and ongoing process. This is not something small business owners feel comfortable with.
What are the three types of digital media?
These are the three types of digital media:
1. Earned media
2. Media-owned
3. Paid media
How can I become a digital marketer?
Digital marketing requires many skills, which I have already mentioned in the article. People will learn each skill individually. You will need to have the experience to become a digital marketer.
To get an idea of the basics, you can read through different articles or books. Next, you can move on to some good courses in the digital market. To gain practical skills, you can also look for freelance work and internships. Keep yourself informed about the market and available tools.
How difficult digital marketing is to learn?
As the internet grown, more businesses came online. any business to promote its products & services on an online platform. It involves searching for customers on social media, search engines, websites, etc, and increase the market reach.
How many days it will take to learn digital marketing?
12 weeks but it also depends on your skill and capabilities. The interesting part with the Digital market is, you don't need to finish a complete course to start a career. You can learn a free website course with DMPathshala in 7 days and start making money.
Conclusion
Each of these techniques is part of a larger digital marketing campaign and is connected. You will need to practice and learn each topic thoroughly to consult a digital marketing expert. In India, there are many digital marketing companies that have the team to manage your online business. SEOIndiaInc is a digital marketing agency that has a team of SEO experts, Content marketing, web development, copywriting, and business planning.