The Amazon Affiliates Plugins program is a great way to monetize niche or product review sites. You can find some useful WordPress plugins to insert Amazon affiliate links, update your prices and product details via the Amazon Associates API, create product comparison tables, and more because it's such a popular affiliate program.
This post contains 4+ of the best WordPress plugins for Amazon affiliates to help you make more money, comply with Amazon Associates" terms of service, and generally make working with Amazon affiliate content easier.
Here are 4 of the best WordPress plugins for Amazon affiliates
Basic text links.
A product box includes a description, price, CTA buttons, and more with a single shortcode.
Lists of top-selling products based on a keyword or product category.
A list of new products based on a keyword.
Using a shortcode, you can insert specific information about a product, such as its price.
Sidebar widgets – add products to your sidebar.
You can insert products in several different formats.
Update product information using the Amazon Associates API, including locally caching the results to improve performance.
Send shoppers directly to the correct Amazon location with geotargeted affiliate links.
Tables can be created to compare products.
You can track affiliate link clicks in Google Analytics by adding event tracking to your affiliate links.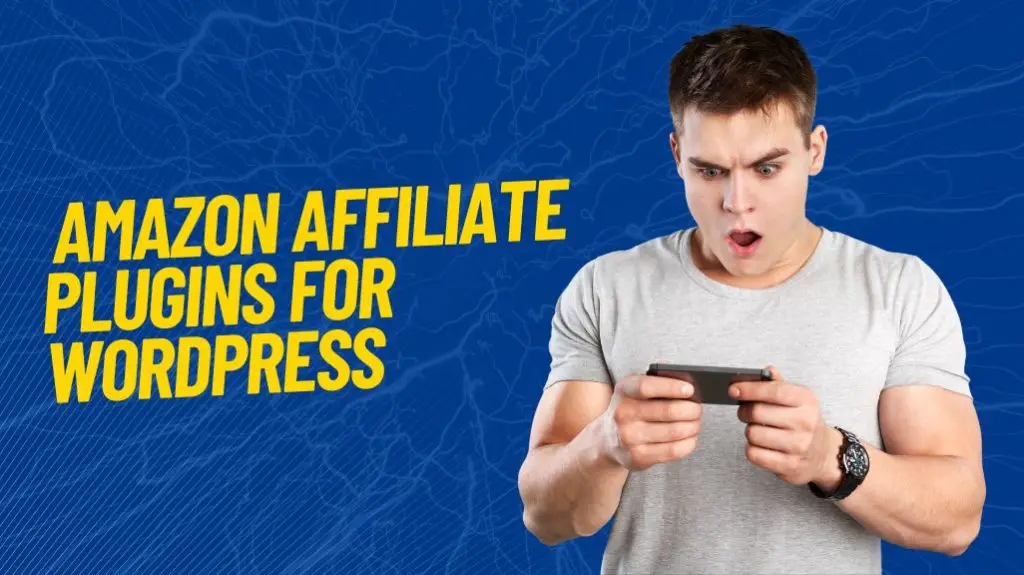 EasyAzon
EasyAzon is a popular free WordPress Amazon affiliates plugin, which makes it a great option for those on a budget. Both plugins above are excellent options, but neither is free, which can challenge newbie bloggers.
With EasyAzon, you can access some useful features for free, as well as more features in its paid version.
You can create and insert Amazon affiliate links from the WordPress editor, which is much faster than going to Amazon's website.
With the Pro version, you'll also get some more advanced features, such as:
Hovering over a product will display product information.
Add to cart functionality – have shoppers add the item to their cart to extend cookie duration.
Send shoppers directly to the correct locale with automatic link localization.
EasyAzon is available for free on WordPress.org. The paid version is $47 for unlimited use on personal websites and unlocks all features.
Show a dynamic feed of products from a specific Amazon category.
Show a list of products based on keyword search.
Amazon Auto Links
URL – list items from an external URL.
To change the size of images in your lists, you can also use shortcode parameters.
Amazon Auto Links displays accurate product information via the API using the PA-API v5.
Amazon Auto Links isn't as flexible as AAWP or AzonPress, but if you're looking for a free option, it's a good option.
Using the Amazon Associates API, it inserts accurate information about products on your site. There are several ways to insert products, including:
Links in text
Call-to-action buttons
Boxes with products
Links to images
AmaLinks Pro
Additionally, AmaLinks Pro includes a table builder add-on (at no extra cost) that lets you create customizable product comparison tables like the one below:
You can drag-and-drop columns and information to customize the table builder. You can also mark certain items as "Top Choice" to direct shoppers to the most profitable things.
AmaLinks Pro also includes Google Analytics event tracking so that you can track affiliate link clicks in Google Analytics to understand the performance of different offers.
In addition to Amazon OneLink and Genius Link, AmaLinks Pro does not support geotargeting your links to different Amazon locales by itself.
WZone (WooCommerce Amazon Affiliates)
WZone is a unique plugin for Amazon Associates since it works differently from all the other plugins. The WZone plugin assists you in setting up your own affiliate eCommerce store powered by WooCommerce, unlike most other plugins that help you insert affiliate links and product information into your existing content.
WZone allows you to easily import Amazon products into your store and list them as products. As with any other eCommerce store, shoppers will be able to browse your store. You will earn an affiliate commission when they complete their purchase on Amazon when they check out.
The product information will also be kept up-to-date so that your store always shows the correct information.
When it comes to this entire affiliate eCommerce store approach, WZone can be a good option. In contrast, WZone is not a good choice if you want to add Amazon affiliate content to your blog posts.
Read Also:
Ads with advanced features
In contrast to the other plugins on this list, Advanced Ads is not specific to Amazon Associates. However, it can still be a handy WordPress plugin for Amazon affiliates since it allows you to insert ads anywhere on your site.
Dynamic ads from Amazon (called Native Shopping Ads) can be inserted. Like Google AdSense, Amazon will automatically display products relevant to the page's content. Amazon would dynamically insert product listings for high-resolution monitors if you wrote a post about "best high-resolution monitors."